Why Nursing Gowns and Robes Should Be On Your Checklist for Pregnancy and Beyond
Of lately, nursing gowns and robes have become the top preference for most of the pregnant women. Basically, it is due to the comfort that they provide during your pregnancy and even beyond that. Mostly, women prefer buying nursing gowns in the third trimester of pregnancy and continue to use it till postpartum stage. They are an excellent garment to facilitate breastfeeding with their easy access and comfortable sizing. Nursing sets are designed from soft, soothing fabrics that allow breathability throughout the day. They double up as maternity gowns and nursing gear with built in nursing pads for added comfort. While preparing your checklist for a hospital visit, add two sets of nursing gowns to enjoy your newly attained motherhood with a dash of style.
Still not convinced to buy this nursing gear for handling your postpartum health issues, here are the top reasons that may induce you to do that. As earlier said these gowns are classy and comfortable with a lot many advantages, viz.
They Are Comfortable for Day Long Wearing:
This is the biggest merit of wearing nursing outfits like gowns and robes. You needn't resort to your husband's oversized and manly Tees. You can buy yourself a stunning nursing gown in stretchy knitted fabric and perfect size. Buy them for your third trimester and you will be hooked on to them till post pregnancy. They are easy to wear and breathable to relax. At the same time, these gowns let you enjoy your motherhood by facilitating in breastfeeding your infant. Their soft fabrics and easy access styles offer comfort to you and your child, especially during the late night feeding.
They Are Stylish and Trendy:
Truly, it's hard to maintain your high style quotient during the pregnancy. But you can do that by choosing sassy and beautiful nursing gowns. They are available in a wide range of styles, fabrics, colors, and patterns. They have feminine styles enhanced with laces and stunning necklines. You can buy a design that suits your style sensibilities along with the desired comfort you need for pregnancy and beyond. While gowns are practically meant for relaxed nursing, robes can add the pinch of style that you seek in your pregnancy and postpartum support garments.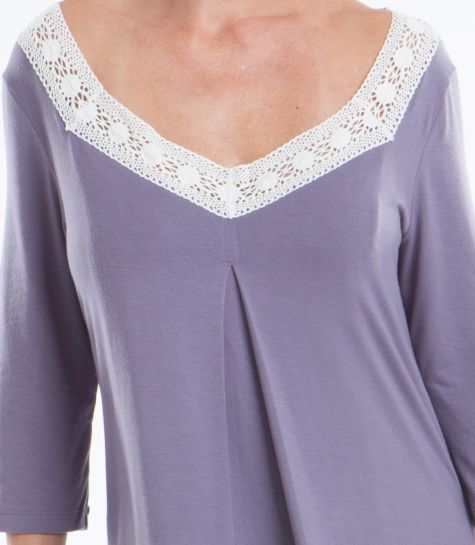 They Offer Ease of Nursing Your Baby:
This is why they are named as nursing gowns and robes. These outfits are specifically designed to offer the ease of nursing your newborn baby at any point of time. It allows you to sit comfortably and tend to your baby without getting tired. These gowns have extra layers of support to discard the need of padded undergarments. Also, they have different styles of access that you may choose as per your preference. These easy nursing features makes you and your baby feel relaxed during the breastfeeding sessions, especially at odd hours. The stretchy and comfy fabrics are soft on your child's tender skin and do not cause any abrasion or discomfort. And, this is an added advantage of choosing them.
It Fits Over the Bulging Belly:
In times of pregnancy when your belly gets bulgy and you need something that fits over it without straining your stomach, nursing robes can be your ultimate savior. They are sized appropriately and fit over the fat pre-pregnancy belly with ease. You can just put them on and tie the belt according to your comfort levels. This functional piece of clothing will never disappoint you. You must also keep it handy to face the frequent unexpected visitors in postpartum stage.
They Are Cozy for Winters:
While preparing for childbirth during winters, it is necessary to be geared up properly with warm and cozy clothes. This is imperative to avoid catching cold and falling sick at the time when you shouldn't. These gowns and robes are available in comfortable cozy fabrics that can be worn during this season as well. You can combat the chill of winter by wearing these nursing robes. And, they are trendy as well for this time of the year. You can choose robes in a bright color to make them look suitable for the cold season.
These are some of the top reasons to choose nursing gowns and robes for enjoying this most precious time of your life. Without compromising with your style, you can enjoy the ultimate comfort in these outfits designed to be so. And yes, they are much more attractive than the standard hospital-issued gowns when you have frequent guests visiting to see your new bundle of joy.