Treatments for Spider Veins on the Face and Legs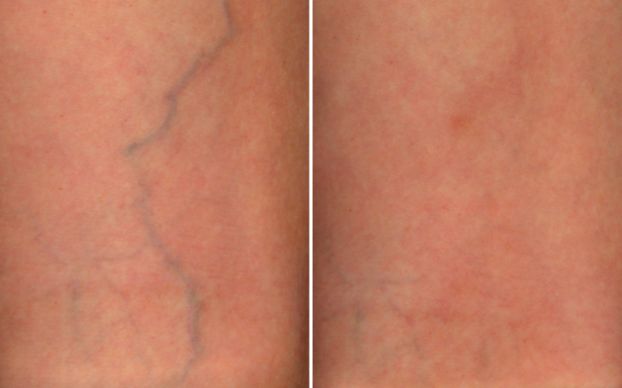 As per medical studies, women are more vulnerable to developing spider veins in comparison to men with their ageing as well as factors like intake of birth control pills, overexposure to sun's UV rays, obesity, post menopause hormonal change, pregnancy and lifestyle. Spider veins typically appear in red, purple and blue color virtually underneath the skin surface that makes them easy visible mostly on the legs, calves, face and ankles.
Important to note that causes of developing with spider veins especially on face and legs are not similar, which is why, a diligent look at them is sure to make you cautious, which is the first step to your action plan and its cure.
Causes-Spider Veins on the Face
Aging is a major cause that leads to weakening of the vein walls and skin texture making the broken capillaries noticeable on the face, beside nose, eye as well on legs and calves of women having responsive and fair skin tone.
With skin ailments such as Redness, Rosacea, Eczema, and skin inflammatory conditions tiny blood vessels on facial part stand pressure and prolonged irritation, which mostly lead to appearance of spider veins.
Too much exposure to UV rays of sun result in broken capillaries on face, under the eyes and cause spider veins. Smoking is one of the major causes that tend to damage veins as well as arteries and develop into premature aging skin with spider veins.
Fast lifestyle affects large number of women with hypertension, stress, insomnia, eyestrain causing broken capillaries and occurrence spider veins on the face.
Causes- Spider Veins on the Legs
Venus deficiency and damage of vessel walls is often caused by back-flow of blood in the veins. The broken capillaries with clogging of blood normally appear as spider veins. Typical medical causes of venous deficiency are high blood pressure, overweight, and pregnancy.
Occupation life that involves standing for extended hour results in varicose as well as spider veins on legs, ankles, and calves. Some other causes include use of birth control pills and side effect of medications.
Treatments for Spider Veins on the Face and Legs
Option 1
Natural Ways
Those who are fond of natural ways can apply elements and herbs like Horse Chestnut Extract, Apple Cider Vinegar, Bucher's Broom, Witch's Hazel or Mustard Oil and Sesame Oil, in raw or through Ayurvedic medicine to get rid of spider veins. However, to get desired result you have to wait for long period depending on the veins conditions.
Option 2
Massages
It has been found that massages are helpful to remove spider veins on the legs or face. Gentle massaging with olive oil, pure coconut oil containing anti-oxidant as well as anti-inflammatory properties on the affected veins can enhance blood circulation and thus, diminish the acuity of spider veins gradually. Ideal for those who can wait for expanded period to get moderate result.
Option 3
Intense Pulsed light and Laser Therapy
In this procedure, spider veins are treated with laser backed heat and light therapy to destroy the clots of veins. Less effective procedure in comparison to Sclerotherapy.
Option 4
Sclerotherapy
The medical procedure refers to Sclerotherapy has long been established as a highly effective rehab measure for spider veins. The non-invasive medical session entails employing of sclerosing agent into the affected vessels. In course of treatment of spider veins in NJ, once the fitness level of a patient is evaluated, they are cared typically by efficient vein surgeons. Applying sclerosing by means of injection in the innermost vessel linings effectively breakdown the congested veins and start diluting the unsightly spider veins in a steady way. Considering the veins condition more than one session may be required while you will start experiencing the gradual disappearance of those unattractive veins on the face and leg.
Why Treatment of in Spider Vein Is Demanding:
Globally Popular Medically Proven;
Involves No Surgical Procedure;
Clinical Treatment Takes only 20-30 min;
Experience the fading veins within 3 months;
Affordable and Long Term Solution;